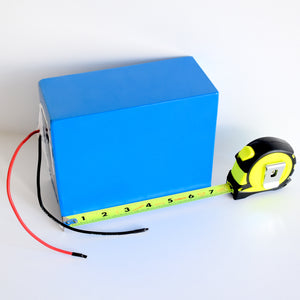 Lithium Iron Phosphate 12.6V battery suitable for anything where you would use a lead acid battery. Example - backup power for electronics, security, solar battery banks, EV's, etc.
This battery pack is equipped with a BMS rated at 30 A continuous. So the continuous discharge power should be no more than 400 watts. If your device uses more power you can simply use multiple packs and wire them in parallel (+ to +, minus to minus).
You only need 3 of these to build yourself a
1.15 kWh
battery bank!
Lithium Iron Phosphates last MUCH MUCH LONGER than regular lithium cells (over 2000 discharge cycles instead of 300) and are  MUCH SAFER, with a significantly reduced risk of fire, and far more tolerant to abuses.
Specifications:
Max Voltage (Fully charged): 13.6V
Cutoff Voltage (Empty): 10.8 V
Max Current Draw: 120 watts recommended for cell longevity; up to 500 watts continuous is OK with upgraded BMS; or, opt for BMS-free active balance module for unrestricted current flow (up to 150 A / 1.9 kW pulse for 4 seconds).
Protection: Overcharge protection to 3.85V per cell (15.4V); discharge cutoff at 2.3V per cell (9.2V).
Cell Type: 20pcs 32700 LiFePO4
Dimensions: 7" long, 5.5" wide, 3.2" thick.
Weight: 6 Lbs 14 Oz
Connector: 16-AWG wires (no connector)
Assembled in California, USA.